Welcome to my studio!  Here I conduct private classes for small groups in ceramics.
In my time as a studio artist I kept hearing the same response from people when they found out I'm a potter.  "I have always wanted to try that."  Clay is an almost magical substance, and I promise that it is even more fun than it looks.
What others are saying about their time at Art in the Attic Studio…
Lisa W says:
I brought 6 of my friends to Cassy's Studio. We had a fabulous time! She was so very patient with us! We are a group of friends that do not see each other often so we are very easily distracted! So kept us focused and on track! We loved our time in the attic!
Jacque H says:
Went to the studio with my girlfriend and her 13 year old daughter. It was tons of fun! Cassy's studio and teaching style was perfect for the extended age range. We were already talking about booking another session before our first one had ended. It was a great afternoon.
Susie J says:
My husband, daughter& I went to the studio. We all made different things to suit our styles and abilities. We made several unique pieces. Very relaxed, fun and creative. Can't wait to go back!
Jessica O says:
I have been there multiple times and I always can't wait to return! It's fun and relaxing at the same time. I would definitely recommend buying a session or ten!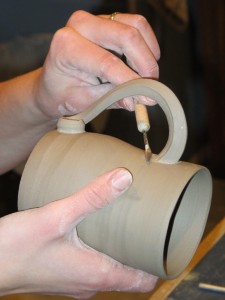 Get your friends together and schedule a class!  Try your hands with clay either hand-building or wheel-throwing; it's something everyone has wanted to try at least once in their life!  I'd love to host your group for a studio session. Bring your own beverages, curiosity, and adventurous spirit. I'll share my equipment, techniques, materials, and experience, you'll be able to pick up your finished ceramic wares in a couple of weeks!  It's as hands on as you want it to be and your group controls the direction of the session.  Whether you have an idea for a slab-built piece, have wanted to try throwing clay since you saw Ghost, or need the perfect team-building activity for your group, this is the place.